ELITE FROM 5,000.00 USD & GOLD FROM 3,500.00 USD
per person for 8 days - global airfares not included
Book 10 & 1 tours free - online only - key in group promo code PARADISE10
Tour Duration: 7 nights and 8 days.
Starts and ends in Auckland City: Departs every Monday and returns the following Tuesday.
Tour Region: Auckland & Northland's Twin Coast Paradise, North Island, NZ.
The Twin Coast Paradise stretches approx 1,000 kms across two coastlines often hidden by green rolling hills or native forest. Imagine pristine beaches with white or golden sand, clear blue waters and more than 150 remote islands to explore.
Tour Access: By Land via the Twin Coast Discovery Highway Scenic Route - by Boat and - by Air. We do it all!
Guest Waka: Road travel is on a Mega-50, Mid-36,or Mini-24 Coach for the more remote areas. We maximize at 80% capacity per tour to ensure your highest level of comfort, space and luggage capacity. Coaches are available for private larger group bookings up to 36 guests. Mini-12 Vans are used for VIP Excursion Transfers.
Distances Between Destinations: Often very short due to Northland's size so most of your time is spent outside of the coach connecting with the true Kiwiana and having assured unique experiences with the land, sea and sky.
Food: Rich in freshness, color and natural taste. Mornings always start with a scrumptious breakfast. Lunch and dinner is included most days varying by your host in delicacies. We encourage sample grazing of local cuisine throughout the day and will recommend terrific dining options on "your choice" evenings.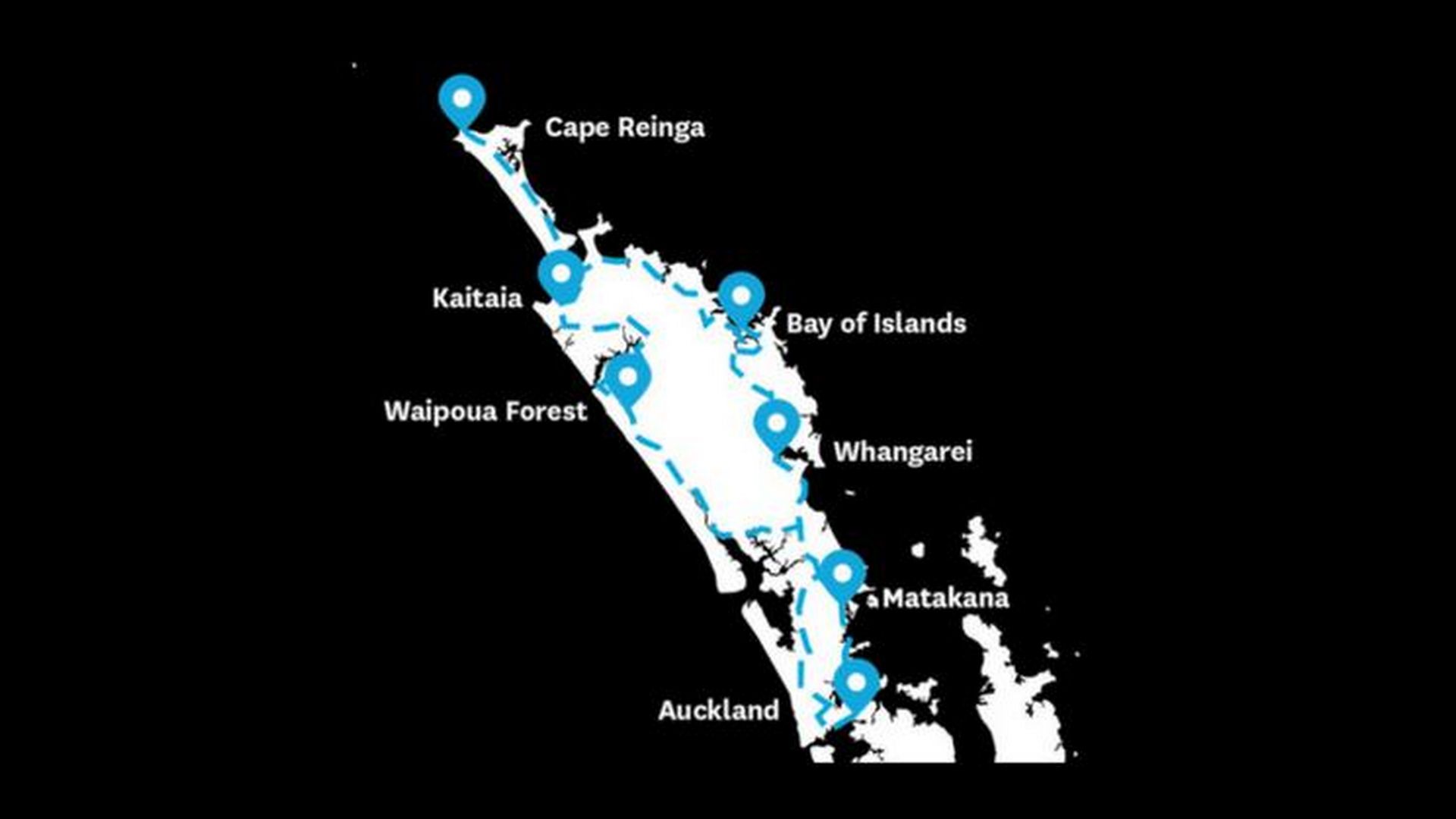 Additional private excursions: are extra special and transfers are by our Mini-12 Coach. These excursions are seasonal and when available are offered under the TCD Experience-Add On Excursion Menu tab.
This "Door to Door, Warm to Warm Handshake" designed tour is superior.
We travel motorcade style giving presidential care and safety for all our guests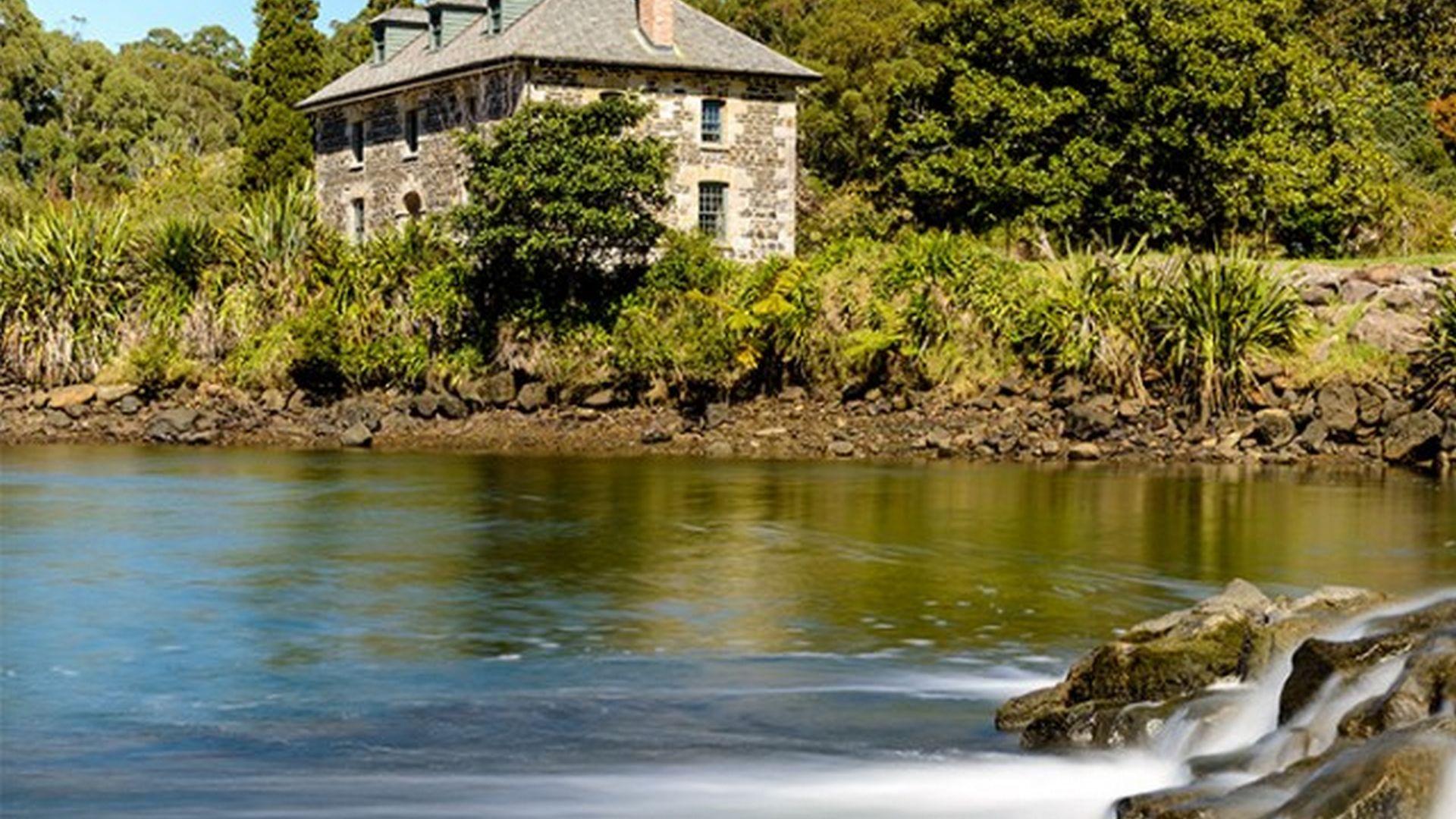 Departing from Paihia after a relaxed breakfast at the hotel, we take a short stroll along a riverbank to the spectacular Rainbow Falls, where the water cascades into a popular swimming hole surrounded by native bush. A spiritual tradition awaits you there.
Then it is off to fabulous KeriKeri, the largest town in Northland and a popular tourist destination. Special invitation has been extended to our guests to tour a private ancient Kauri factory home for the Bigger and Better. Kauri are among the world's mightiest trees, growing to over 50m tall, with trunk girths up to 16m, and living for over 2,000 years. Sourcing from their 100-acre farm where an Ancient Kauri Grave lies, they make furniture for the giants.
World famous in New Zealand, it is time to walk through the largest beehive and honey taste some of the best honey in the world.
Take a leisurely walk around the historical buildings in this town before we whisk you off to Marsden Estate Vineyard for a pleasurable lunch. Nearly two centuries ago, the first grapevines that were planted at KeriKeri was the work of Samuel Marsden, the driving force behind the establishment of Anglican mission stations in New Zealand. The estate was named after him and is superbly designed for you. We then leave for the Winterless North, Matauri Bay.
The pace noticeably slows down the further North we travel but the luxury does not. Welcome to Kauri Cliffs, a golfer's dream but also a paradise resort and retreat location. The opulent and elegant suites glow in the morning light as the sun rises to reveal panoramic views across the blue Pacific Ocean.
Sumptuously designed, the spacious suites offer peace, comfort and complete relaxation. With attention to detail that is second to none. Set away from the main lodge and among native New Zealand forest, the guest suites are housed as pairs in outlying cottages near to the lodge spa, gymnasium, tennis courts and swimming pools. Retreat into this lifestyle of being pampered for the rest of the day. Unplug from your everyday life into the evening with pure elegance.