ELITE FROM 5,000.00 USD & GOLD FROM 3,500.00 USD
per person for 8 days - global airfares not included
Book 10 & 1 tours free - online only - key in group promo code PARADISE10
Tour Duration: 7 nights and 8 days.
Starts and ends in Auckland City: Departs every Monday and returns the following Tuesday.
Tour Region: Auckland & Northland's Twin Coast Paradise, North Island, NZ.
The Twin Coast Paradise stretches approx 1,000 kms across two coastlines often hidden by green rolling hills or native forest. Imagine pristine beaches with white or golden sand, clear blue waters and more than 150 remote islands to explore.
Tour Access: By Land via the Twin Coast Discovery Highway Scenic Route - by Boat and - by Air. We do it all!
Guest Waka: Road travel is on a Mega-50, Mid-36,or Mini-24 Coach for the more remote areas. We maximize at 80% capacity per tour to ensure your highest level of comfort, space and luggage capacity. Coaches are available for private larger group bookings up to 36 guests. Mini-12 Vans are used for VIP Excursion Transfers.
Distances Between Destinations: Often very short due to Northland's size so most of your time is spent outside of the coach connecting with the true Kiwiana and having assured unique experiences with the land, sea and sky.
Food: Rich in freshness, color and natural taste. Mornings always start with a scrumptious breakfast. Lunch and dinner is included most days varying by your host in delicacies. We encourage sample grazing of local cuisine throughout the day and will recommend terrific dining options on "your choice" evenings.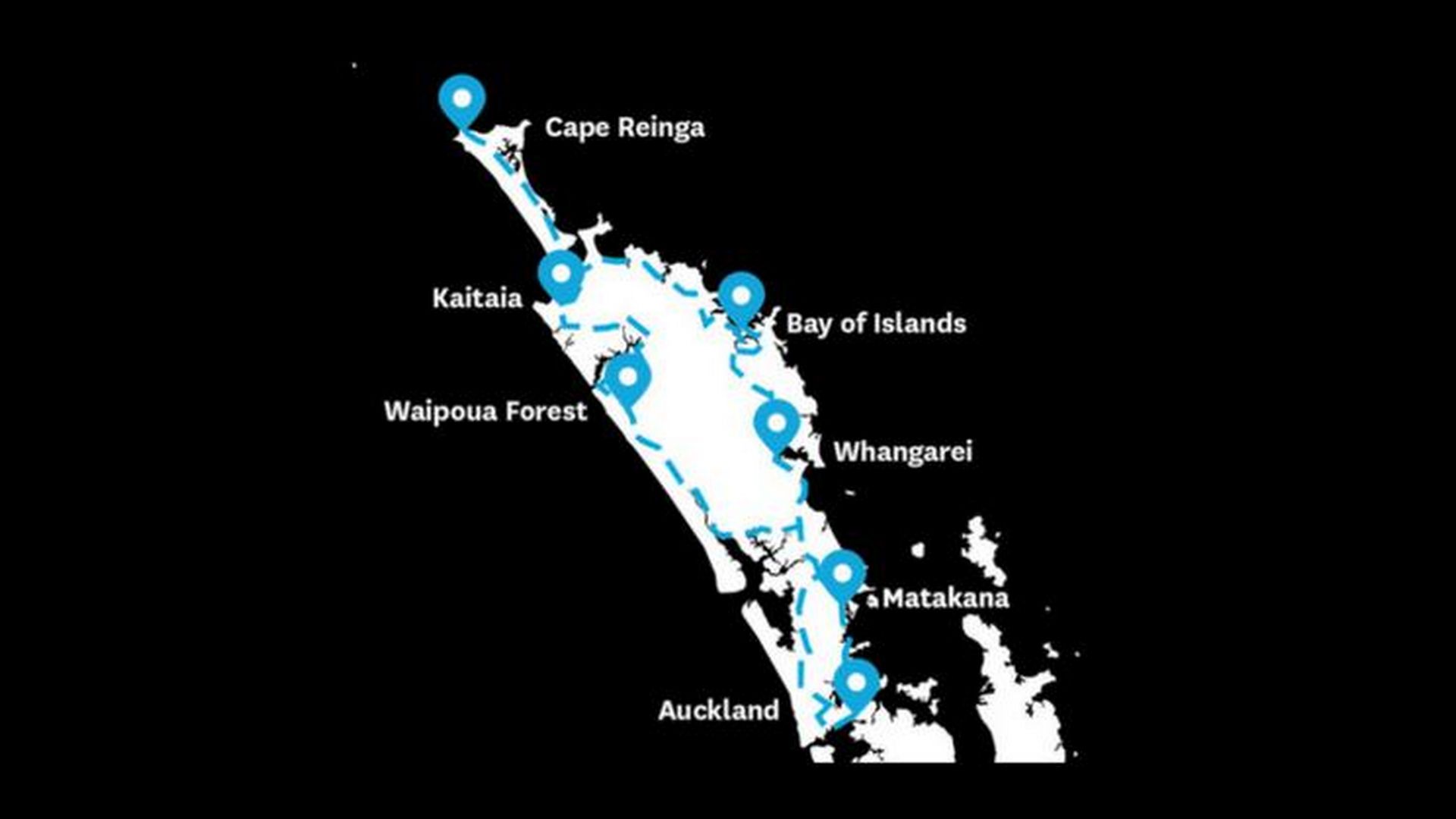 Additional private excursions: are extra special and transfers are by our Mini-12 Coach. These excursions are seasonal and when available are offered under the TCD Experience-Add On Excursion Menu tab.
This "Door to Door, Warm to Warm Handshake" designed tour is superior.
We travel motorcade style giving presidential care and safety for all our guests
Today your personal chauffeur awaits in your hotel lobby to take you to our Coach Motorcade where you will leisurely enjoy a world class coffee meet and greet before our coach boarding Kia Ora. Over the harbor bridge across a City of Sails and Around the Bays we go for spectacular views through large glass windows so not to miss stunning scenery around every coastal corner. A short stop to feel the ambience of a typical seaside village until the conch shell calls. Time to climb the hills for breathtaking sights in this wonderland.
Enjoy a little of something good in Puhoi Valley with deliciously indulgent food reflecting a belief that food made with care, to taste good, feeds the body and lifts our spirits. Flavorsome cheese tasting tours is fun in this historic village settled in 1863 by Bohemians. Great food, great beer, and a great place is important. The Puhoi iconic pub is one of the last historical pubs left in the Southern Hemisphere. The interiors filled with the remnants of past and present memorabilia is enough to fill one with a sense of nostalgia. Drink a glass of your favorite tipple and choose from the excellent bistro menu for a fine and satisfying lunch.
Discover rural New Zealand. SheepWorld provides a unique insight into how we farm our sheep in New Zealand, then harvest and use their wool. Your chance to shear a sheep and witness dog herding that would beat any technology. Get up close and prepare to be entertained by witty farmers and a sheep/dog show.
Enter the beautiful countryside of Matakana to find Ascension Estate nestled in the wine country with their incredible and exceptional wines. Daring to be different they offer a superb venue for wine tasting in a rustic Mediterranean setting. Let the staff take you on a story of their various wines and tour of the underground cellar. Relax, enjoy and savor this private experience while sampling exquisite Italian cuisine.
No rush as we travel thereafter to Kourawhero Estate located on the Matakana Coast. Experience a Powhiri Cultural Maori welcome. Wander these green rolling hills with a cocktail and watch the sun set across Hauraki Gulf and islands. Dining this evening is an elegant yet traditional outdoor Kiwi BBQ hosted by their Sous Chefs. Matakana flavored wines are paired with this country meal and liqueurs with divulging special coffees Kiwi style. Melt in your mouth uniquely arranged Kiwi desserts to delight your taste buds accompanied with story-telling and enchanting music - you will have a good time! Sleep blissfully this evening in boutique luxury with peace reigning everywhere.