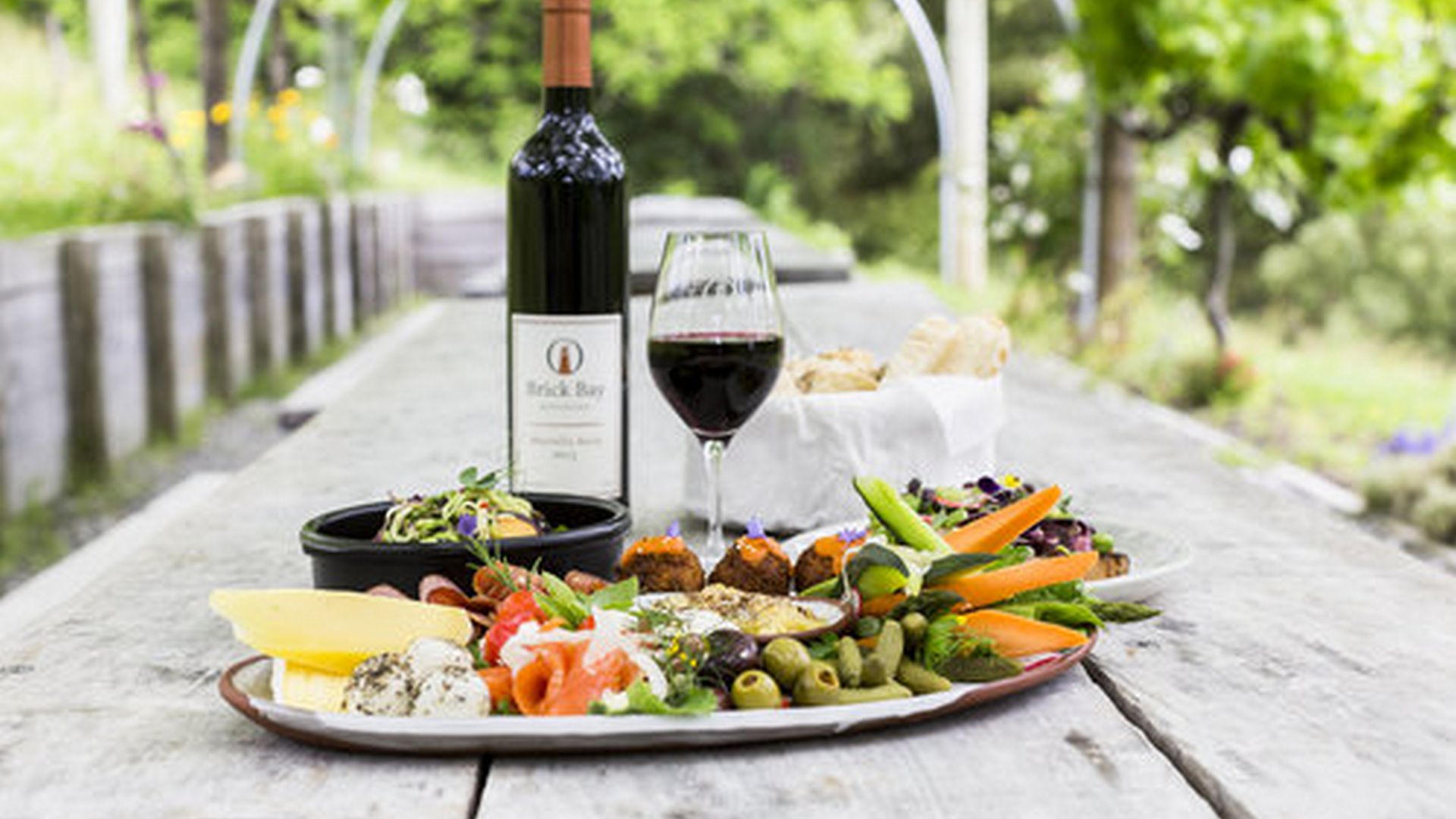 The Glass House Kitchen is located in the spectacular Brick Bay Wine Estate and is the gateway to the Brick Bay Contemporary Sculpture Trail. Cantilevered over a shimmering lake you are offered a divine brunch showcasing the freshest seasonal produce after exploring this land cooled by the salty sea breezes. There is no limit to this experience with just a few minutes away is Sculptureum where there are three sculpture-filled gardens, six galleries, a vineyard, an events space and Rothko, restaurant and bar. We are driving so it's never too early to "walk with wine" because it is 5 o'clock somewhere!
The scenic route to our next destination slowly winds besides the perfect curve of golden sand and the picturesque Pohutakawa trees line the roads offering summer shade, spectacular when in bloom. From marine reserves such as Goat Island this short trip is the gateway to Catseye Beach where the water can wash over your feet while you walk along the white sand beaches. With a blanket, umbrella and picnic hamper at your disposal you are equipped to maximize your relaxation capability and comfort for this day. Later we visit and sample hand-crafted exquisite chocolates in Magical Mangawhai, the Home of the Stingray. Browse the Pipi Gallery for a rare find after enjoying a Devonshire Tea with club sandwiches.
A private shopping hour or so in The Quay in Whangarei housing the largest range of Greenstone in the country and superb souvenirs from local artists is just for you. Dinner is marine side in Whangarei Basin, the true gate to a plate experience. For Kiwis it's about traceability, it's about knowing where ingredients come from and it's about being proud of the meals we produce! Chefs operate on a philosophy that natural grass feed stock produces a fuller flavored tender cut of beef and lamb. Vegetables are grown using organic techniques in rich volcanic soil giving complete traceability on the produce delivered directly to your plate. Ending the evening will be difficult so we extend the ambience into the coach as we depart back to Kourawhero.