ELITE FROM 5,000.00 USD & GOLD FROM 3,500.00 USD
per person for 8 days - global airfares not included
Book 10 & 1 tours free - online only - key in group promo code PARADISE10
Tour Duration: 7 nights and 8 days.
Starts and ends in Auckland City: Departs every Monday and returns the following Tuesday.
Tour Region: Auckland & Northland's Twin Coast Paradise, North Island, NZ.
The Twin Coast Paradise stretches approx 1,000 kms across two coastlines often hidden by green rolling hills or native forest. Imagine pristine beaches with white or golden sand, clear blue waters and more than 150 remote islands to explore.
Tour Access: By Land via the Twin Coast Discovery Highway Scenic Route - by Boat and - by Air. We do it all!
Guest Waka: Road travel is on a Mega-50, Mid-36,or Mini-24 Coach for the more remote areas. We maximize at 80% capacity per tour to ensure your highest level of comfort, space and luggage capacity. Coaches are available for private larger group bookings up to 36 guests. Mini-12 Vans are used for VIP Excursion Transfers.
Distances Between Destinations: Often very short due to Northland's size so most of your time is spent outside of the coach connecting with the true Kiwiana and having assured unique experiences with the land, sea and sky.
Food: Rich in freshness, color and natural taste. Mornings always start with a scrumptious breakfast. Lunch and dinner is included most days varying by your host in delicacies. We encourage sample grazing of local cuisine throughout the day and will recommend terrific dining options on "your choice" evenings.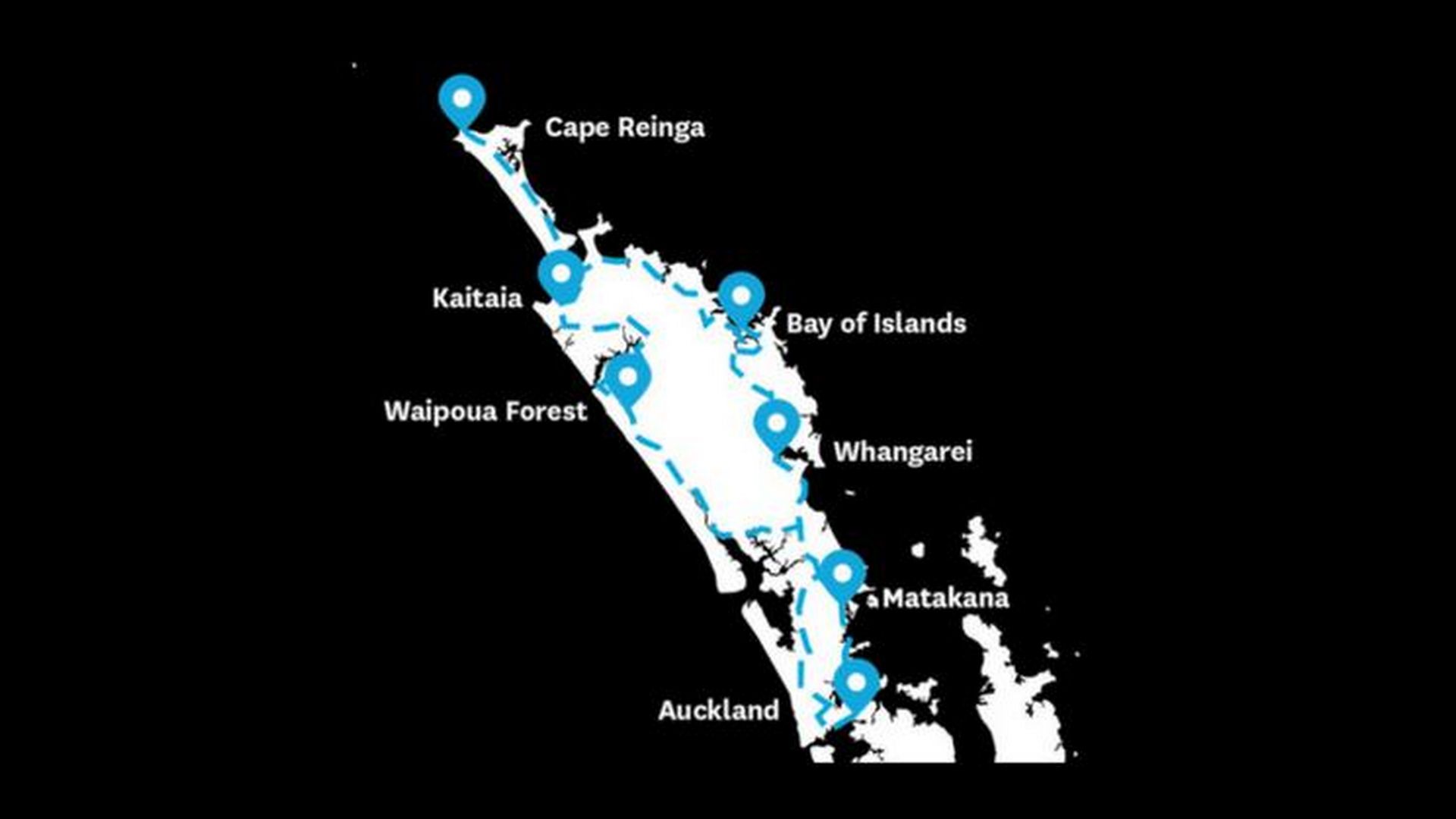 Additional private excursions: are extra special and transfers are by our Mini-12 Coach. These excursions are seasonal and when available are offered under the TCD Experience-Add On Excursion Menu tab.
This "Door to Door, Warm to Warm Handshake" designed tour is superior.
We travel motorcade style giving presidential care and safety for all our guests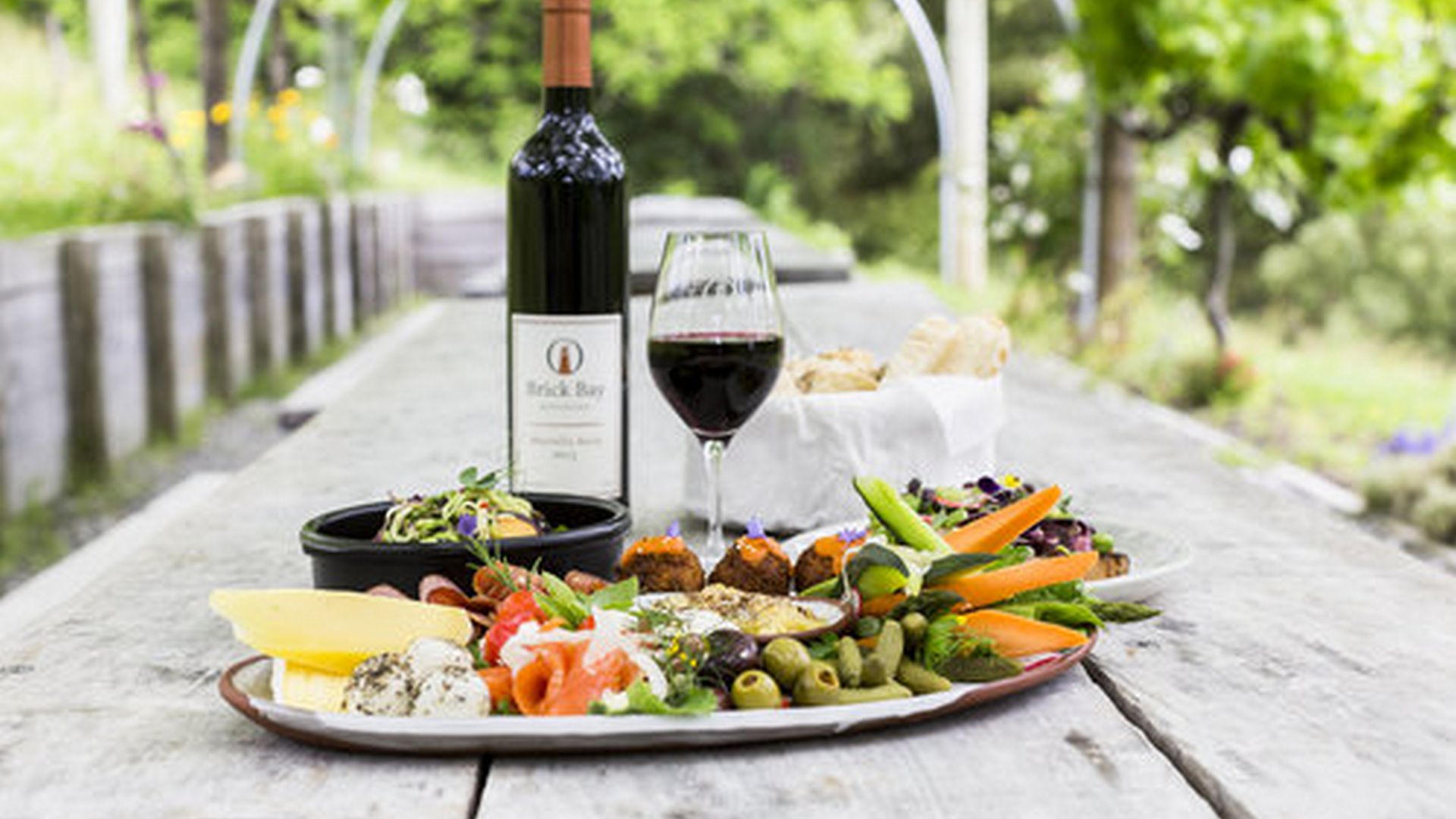 The Glass House Kitchen is located in the spectacular Brick Bay Wine Estate and is the gateway to the Brick Bay Contemporary Sculpture Trail. Cantilevered over a shimmering lake you are offered a divine brunch showcasing the freshest seasonal produce after exploring this land cooled by the salty sea breezes. There is no limit to this experience with just a few minutes away is Sculptureum where there are three sculpture-filled gardens, six galleries, a vineyard, an events space and Rothko, restaurant and bar. We are driving so it's never too early to "walk with wine" because it is 5 o'clock somewhere!
The scenic route to our next destination slowly winds besides the perfect curve of golden sand and the picturesque Pohutakawa trees line the roads offering summer shade, spectacular when in bloom. From marine reserves such as Goat Island this short trip is the gateway to Catseye Beach where the water can wash over your feet while you walk along the white sand beaches. With a blanket, umbrella and picnic hamper at your disposal you are equipped to maximize your relaxation capability and comfort for this day. Later we visit and sample hand-crafted exquisite chocolates in Magical Mangawhai, the Home of the Stingray. Browse the Pipi Gallery for a rare find after enjoying a Devonshire Tea with club sandwiches.
A private shopping hour or so in The Quay in Whangarei housing the largest range of Greenstone in the country and superb souvenirs from local artists is just for you. Dinner is marine side in Whangarei Basin, the true gate to a plate experience. For Kiwis it's about traceability, it's about knowing where ingredients come from and it's about being proud of the meals we produce! Chefs operate on a philosophy that natural grass feed stock produces a fuller flavored tender cut of beef and lamb. Vegetables are grown using organic techniques in rich volcanic soil giving complete traceability on the produce delivered directly to your plate. Ending the evening will be difficult so we extend the ambience into the coach as we depart back to Kourawhero.