ELITE FROM 5,000.00 USD & GOLD FROM 3,500.00 USD
per person for 8 days - global airfares not included
Book 10 & 1 tours free - online only - key in group promo code PARADISE10
Tour Duration: 7 nights and 8 days.
Starts and ends in Auckland City: Departs every Monday and returns the following Tuesday.
Tour Region: Auckland & Northland's Twin Coast Paradise, North Island, NZ.
The Twin Coast Paradise stretches approx 1,000 kms across two coastlines often hidden by green rolling hills or native forest. Imagine pristine beaches with white or golden sand, clear blue waters and more than 150 remote islands to explore.
Tour Access: By Land via the Twin Coast Discovery Highway Scenic Route - by Boat and - by Air. We do it all!
Guest Waka: Road travel is on a Mega-50, Mid-36,or Mini-24 Coach for the more remote areas. We maximize at 80% capacity per tour to ensure your highest level of comfort, space and luggage capacity. Coaches are available for private larger group bookings up to 36 guests. Mini-12 Vans are used for VIP Excursion Transfers.
Distances Between Destinations: Often very short due to Northland's size so most of your time is spent outside of the coach connecting with the true Kiwiana and having assured unique experiences with the land, sea and sky.
Food: Rich in freshness, color and natural taste. Mornings always start with a scrumptious breakfast. Lunch and dinner is included most days varying by your host in delicacies. We encourage sample grazing of local cuisine throughout the day and will recommend terrific dining options on "your choice" evenings.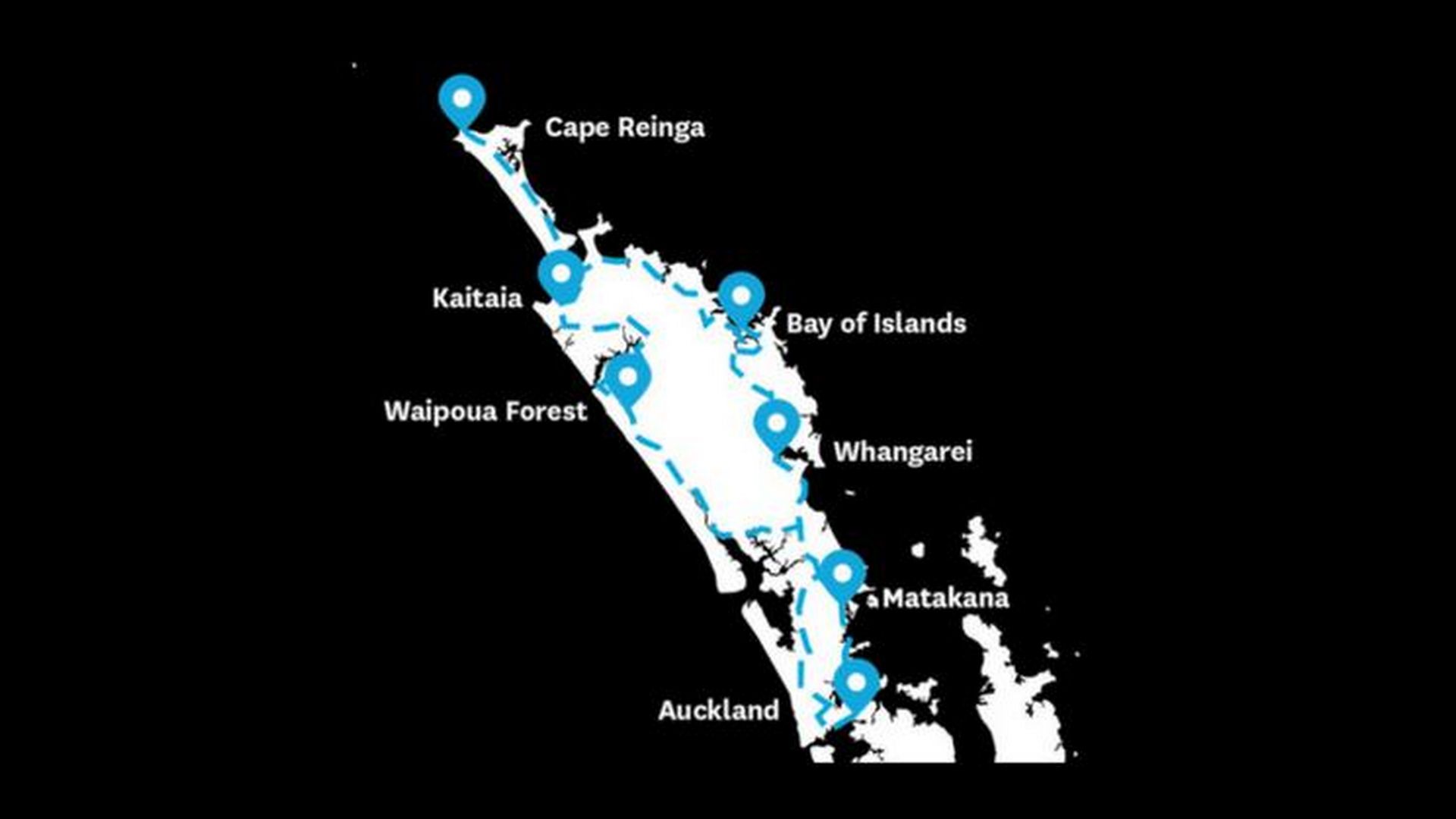 Additional private excursions: are extra special and transfers are by our Mini-12 Coach. These excursions are seasonal and when available are offered under the TCD Experience-Add On Excursion Menu tab.
This "Door to Door, Warm to Warm Handshake" designed tour is superior.
We travel motorcade style giving presidential care and safety for all our guests
The Bay of Plentiful Run is today's theme beginning with a wildlife meet and greet. Talking Tuis, Tuataras and the adorable Kiwis, New Zealand's national bird. Discover them as you would in the wild at Kiwi North set on 25 hectares of rolling, volcanic farmland, forest and bush, with views that overlook the city of Whangarei and The Heads.
Discover the magic when you walk through a network of 656-foot long caves lined with glow-worms, stalactites and stalagmite. Located right in the heart of the Waiomio Valley, the Kawiti Caves are home to thousands of luminous glow worms, breath taking rock formations and lush green rainforest. Journey underground through networks of stalactites and stalagmites to hidden chambers like the Waiomio night sky where the glow worms are so close you can almost touch them.
New Zealand's beloved Bay of Islands – an area of truly magnificent natural beauty and character-filled charm – offers near endless scope for exploration and delight. Known as a gateway to the region, Paihia makes an easy base for the next 2 days from which to either relax and indulge in all the town has to offer, or to take day trips to nearby vineyards, historic Russell Island, or embark on boat tours and game-fishing expeditions. Excursions include the Bay's most intimate dolphin viewing and swimming experience, exploring the Bay's hidden secrets on the cruise that started it all, the Cream Trip or take a thrilling fast boat cruise on America's Cup Fast Boat around cliffs and caves, some of the Bay's most untouched islands. Sail, take the helm and climb the rigging of the Tall Ship R Tucker - a majestic experience. The town Paihia is blessed with an incredible array of water activities so you can go for a paddleboard along the coastline or get beneath the surface of the aquamarine waters and dive the wrecks. Choose from an array of included excursions or from the add on excursion menu when booking your tour with us.
Beautiful weather, inspiring coastlines, idyllic islands, important historical sites, glorious beaches, boutique wineries and a relaxed way of life are what make the Bay of Islands a very special holiday destination. There's plenty to explore during your stay in Paihia – from peaceful back-to-nature activities to unique adventures, inspired shopping and quality dining – it's all right on your doorstep.
Experience the day that changed the history of New Zealand. Step back in time and discover the birthplace of the nation. An absolute 'must-do' for visitors and locals alike, the award-winning Waitangi Treaty Grounds and Museum of Waitangi are unquestionably one of New Zealand's premier attractions. As you journey through the expansive grounds, with spectacular views over the Bay of Islands, you'll walk in the footsteps of the people who changed history. Enjoy a colorful food dinner exquisitely prepared in a "steam earth oven" (Hangi) followed by a spellbinding Maori cultural performance. Every year on February 6, New Zealand marks the signing of the Treaty of Waitangi in 1840. In that year, representatives of the British Crown and over 500 Māori chiefs signed what is often considered to be New Zealand's founding document.
Retreat to your hotel along the waterfront for a nightcap and capture the photographic memorable moments of your day.